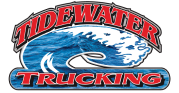 Stuart Neely came from a family background of ranching and the railroad—neither of which he had a passion for. As a young man, he was always called a dreamer, and he was ready to show the world what he was capable of. 

Shortly after graduating high school in 1985, Stuart started working in the ready-mix business. By 1998, he had his very own ready-mix plants. It was then that he saw a big need for the trucking of cement, so he took it as an opportunity. In July of 1999, Tidewater Trucking was born. Stuart started out by hauling his own plants with materials such as rock, sand, and—most importantly—cement. 

By 2004, he was building Tidewater their own shop and yard. Little by little, he began taking on more work as other ready-mix businesses asked for truck hauling. In 2005, Stuart decided to focus on his true passion: trucking. He sold his ready-mix business and grew a successful dry bulk operation alongside his wife. What started as a few trucks on a ready-mix plant turned into 56 Mack trucks and 58 pneumatic trailers hauling through Florida and South Georgia.