Rogers Cartage Co. was formed in the 1930s by the owners of an LTL trucking company, Decatur Cartage Co., and began transporting petroleum products within the State of Illinois. In the early 1940s, Rogers grew rapidly transporting alcohol and other chemicals for the war effort. Rogers continued to grow in the transportation of petroleum products, liquid and dry chemicals, and food products.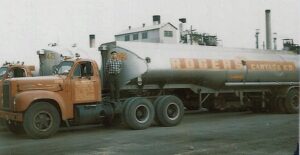 In the period of 1965 to 1985, Rogers management made a strategic business decision to withdraw from the transportation of petroleum and food products.  In 1984, Rogers had closed its last food terminal and in 1985 closed the last petroleum terminal, deciding to concentrate its efforts on the transportation of liquid chemicals.
Between 1973 and 1988, Rogers Cartage Co. was sold three times.  Each sale was to a group of long-time Rogers employees.  The sales were financed in each case within the company.  Rogers Cartage Co. was last owned by Joe Larem, Treasurer, Paul Hinds, Vice President, and Bob Johnson, President.  At the time, each of these individuals had been with Rogers from 27 to 30 years.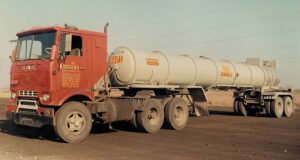 In June of 1991, Rogers Cartage Co. opened its newest and most sophisticated tank-cleaning facility in Gibraltar, MI.  At the time, the Gibraltar facility joined five other tank-cleaning racks in Joliet, IL, Sauget, IL, Hammond, IN, Richmond, IN, and Louisville, KY.  With its four wash bays, the Gibraltar facility was the largest wash rack and the only one with an explosion proof wash bay.  The facility was used as a commitment to Rogers' customers in the Detroit area.  The Gibraltar tank cleaning facility was part of a truck terminal that served as home base for 35 tractors  and about 70 tank trailers.  The terminal was the largest in the Rogers Cartage system.
The safety of Rogers Cartage Co. employees and the general public was always of paramount importance. Through safety meetings, driver training programs, and maintenance seminars, Rogers' objective was to constantly improve to one of the best safety records in the chemical and transportation industry.  Rogers proved that record by receiving safety awards almost every year from 1983 to 1993.  In 1992, they won the big event and received First Place in the combined one million mile category awarded by Trailmobile in cooperation with the American Trucking Association and Illinois Transportation Association.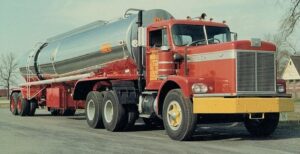 On October 16, 1998, Tankstar USA, Inc. acquired the Crestwood, IL based Rogers Cartage Co. with its 300 drivers and 13 terminals.  Management at Tankstar USA, Inc. saw Rogers Cartage Co. as a great company with an excellent history of safety and quality. 
Rogers Cartage Co. will continue a long history of success by striving for continual improvement in the quality of service and the safety of operations.  In 2012, Rogers Cartage Co. was again awarded a NTTC Mileage class safety award.  As a company we are committed to the continuous improvement that is achieved by listening to our customers and actively seeking the ideas of every employee.  Each day we try to do our jobs a little better than yesterday, tomorrow we will have an even better way to get the job done.